Nov 19, 2022
パリ合同展 – Quartier Libre -(カルチェ・リブレ)に参加します  - Quartier Libre - Group exhibition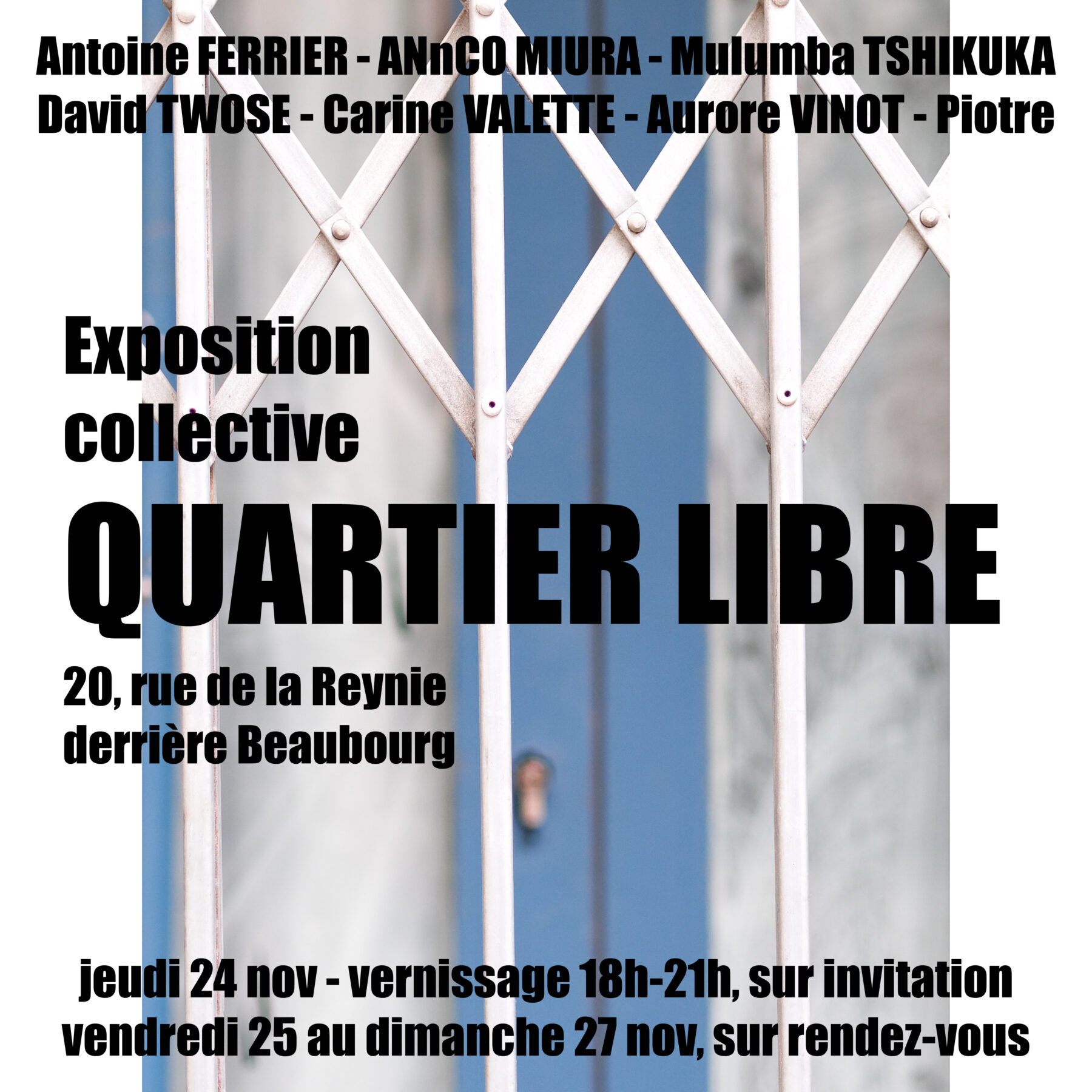 穏やかな秋晴れの日々が続くパリ、その芸術の都の中心にある数百平方メートルの不思議な場所で開催されるグループ展に参加することになりました。
オープニングは11月24日(木)18:00~21:00に招待制で行われます。来場をご希望の方は、11月23日までにお知らせください。展示期間は11月25日(金)〜27日(日)ご来場の方はどうぞ事前にご一報いただけますと幸いです。
Artistes 
ANnCO MIURA
Antoine Ferrier
Mulumba TSHIKUKA
PIOTRE
David Twose
Carine Valette
Aurore Vinot
 – Quartier Libre -(カルチェ・リブレ)
パリの中心部にある数百平方メートルの空間にあるテラスのようなテーブル。そこには建築家と7人のアーティストが座り、何やら楽しそうな計画を立てています。いったい彼らはそこで何をするのでしょうか?
Quartier Libre は一緒に何かを創りたという思いが集まり湧き出てきた胸が高鳴るような展覧会です。
そこはポンピドゥーセンターの裏手にある不思議な空間、各アーティストが自由に作品を発表し、訪れた人々は7つの異なる世界を歩き回ることができます。
そこには様々な異なった表現の自由があり、すべての人の幸せな共存とそれぞれの心を満たすための物語のようなものを創造しているのです。
I am happy to announce my participation in a group exhibition in the center of Paris.
The opening will take place on Thursday, November 24th from 6pm to 9pm by invitation only. If you wish to be on the guest list, please let me know by November 23rd. The exhibition will be open until Sunday November 27th (by appointment only).
Artistes
ANnCO MIURA
Antoine Ferrier
Mulumba TSHIKUKA
PIOTRE
David Twose
Carine Valette
Aurore Vinot
– Quartier Libre –  
Sat on a Parisian terrace in the company of seven artists, a philanthropic architect bestows them an expansive empty building in the heart of the city. How will they transform the space? A joyous, collective exhibition, Quartier Libre springs spontaneously from this encounter.
Tucked in the Beaubourg area a stone's throw from Centre Pompidou, Quartier libre is an underground showcase of seven artists revealing their unique perspectives for the public's pleasure. An allegoric, multicultural expression of individual freedom and blissful collaboration. The blossoming of one and all…